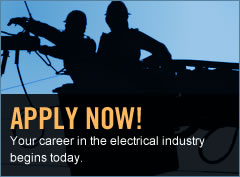 Member Access
for Apprentice/Students, Instructors, Subcommittee and Board Members

Benefit Summary
Being treated as a full-time employee not only assures you of an adequate wage, but also provides a range of benefits associated with full-time employment.
Medical Insurance
As an apprentice or substation technician, you'll receive health insurance benefits for yourself and your dependent family, including health, dental and vision insurance. This insurance is provided 100% by the electrical industry and is not deducted from your paycheck. The health insurance plan provided allows you to see any doctor you wish, anywhere in the country.
Retirement Plans
In a time when most companies are cutting back on retirement benefits, the substation technician profession offers two outstanding retirement benefits to ensure you and your family of a secure financial future.
National Electrical Annuity Plan
Under this plan, you will receive a retirement benefit of 15% to 25% of your gross pay, depending on your local union. This amount is paid by the electrical contractors and is not deducted from your paycheck.
National Electrical Benefit Fund
This multi-employer defined benefit plan provides monthly contributions of 3% of gross pay for electrical workers associated with participating local unions of the IBEW. Substation technicians and apprentices receive the benefit as part of their compensation package when they work for a contributing employer. Vesting in the fund takes just five years. Your benefit is secure once you have earned five service credits. Generally, you earn one service credit a year.
College Credit
Because your apprenticeship is more than just on-the-job training, you are eligible to earn college credit issued by the American Council of Education (ACE).
Veterans
Veterans may be eligible for educational benefits while working their way through the apprenticeship program.
Great Wages Find out about the great wages for a substation technician.