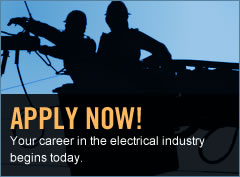 Member Access
for Apprentice/Students, Instructors, Subcommittee and Board Members

Where Can Your Career Take You?
Here's the good news about working as a lineman, traffic signal technician, substation technician or cable splicer. There is no seniority or tenure in the electrical construction industry. So there is no waiting for 10 or 15 years for enough people to leave or retire in order to be promoted. It is based solely on knowledge and ability.
Those who have made the transition to supervisory positions have used their technical and management skills to pursue careers as teachers/instructors, independent business owners, inspectors and consultants.