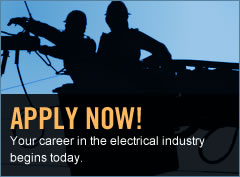 Member Access
for Apprentice/Students, Instructors, Subcommittee and Board Members
What's a Cable Splicer?
Journeyman Cable Splicers build, maintain, operate, and repair underground urban electrical power network systems. Every project is complex, challenging, rewarding, and requires careful management of a skilled team of professional power workers—the construction, operation, and maintenance of network and spot-grid systems involves special skills and advanced technologies.
As an extension of the outside line series of electrical crafts, Journeyman Cable Splicers work alongside Journeymen Lineman, Journeymen Wiremen, apprentices, operators, and laborers from these and other trade classifications. Each specialized electrical worker brings unique skills and abilities to assist the Journeymen Cable Splicers to complete their tasks..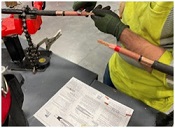 Tape splicing and terminating medium voltage cable
Remanufacture medium voltage cable layers in the field under adverse conditions with basic hand tools
Prepare cable ends with hands tools
Join conductors with various methods
Re-shield conductor with hand applied tape
Re-insulate with hand applied tape
Re-shield insulation with hand applied tape
Re-shield metallic layer with soldering & lead-splicing
Re-Jacket and secure complete splices and terminations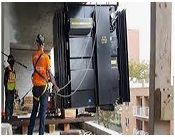 Install & operate urban underground electrical networks
The purpose of a network system is to keep users energized at all times in high-density load areas, so it is uncommon for a network to be de-energized unless there is an issue.
This holds for all grid networks and most spot
Maintenance crews typically work on network systems with the secondary energized, driving Missouri Valley's safety-first initiative for network systems.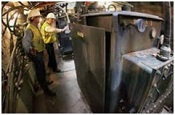 Install network system transformers and network protectors
A network protector is a special self-contained air breaker or switching unit with a full complement of current, potential, and control transformers and relay functionality similar in design and operation to a power circuit breaker at a substation.
Cable Splicing Technicians are trained 'Network Mechanics' with a blended knowledge base and skill poll relative to outside underground line and substation construction.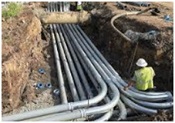 Install manholes and duct banks
Saw-cut concrete and asphalt surfaces
Excavation and trenching
Installation of large diameter conduit & fittings
Installation of pre-formed handholes and manholes
Construction of forms to pour concrete pads
Compaction and protective backfill of duct banks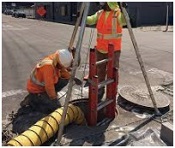 Confined and enclosed space entry and manhole work
Create safe traffic control work plans
Set-up road and lane closures
Provide traffic control
Enter confined and enclosed spaces
Work in manholes to install cables and splices
Repair and maintain vaults and spaces
Train for confined space non-entry rescue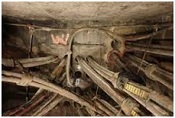 Install medium voltage cable in manholes and duct banks
Pull-in secondary network conductors
Pull-in primary network conductors
Install spot and grid network secondary systems
Install primary network systems
Splice and terminate cables
Rack and label conductors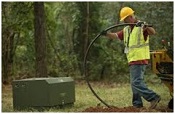 Install underground residential distribution (URD) systems
Trench and install direct cable and conduit
Install cable in conduit
Install pads and pad mounted equipment
Install pedestals and junction elements
Install switches and cables to riser poles
Terminate and splice cables
Install and upgrade underground secondary services
Trench and install direct bury conductors
Pull cable in conduit and raceways
Terminate cables in meter sockets and panels
Terminate cables in transformers and pedestals
Energize secondary services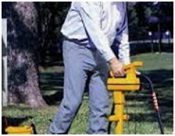 Locate and trouble shoot underground cable faults
Respond to outages by sectionalizing, switching, and isolating underground faults and cable failures
Locate underground cables and faults with pin-point accuracy
Dig-up and repair located faults
Restore power and electrical circuits to normal status
Perform non-destructive testing of medium voltage cables
Operate specialized test equipment and follow maps to verify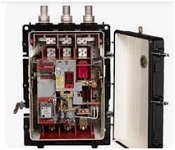 Install, maintain, trouble-shoot, and repair network protectors
Create and prepare complex switching procedures
Perform complex multi-step switching routines to maintain service while isolating circuit elements
Rack-out and perform complex diagnostic tests and adjustments to network protectors (breakers)
Calibrate and adjust relaying circuits including assessment and replacement of CTs, PTs, relays, and instrument control circuits
Adjust contact pressures, checking resistances, and conductivity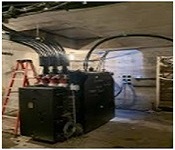 Install, maintain, trouble-shoot, and repair network transformers
Remove concrete vault lid sections or roll transformers into electric rooms
Lift or ferry large oil-filled network transformers
Install network protector/breakers to transformer body
Install primary and secondary cables in network vaults or rooms
Perform specialized lead-terminations and splices
Perform new installation commissioning and diagnostic evaluation Doble-type testing to verify internal integrity
Perform oil sampling to complete dissolved gas analysis
Perform routine shut-down and maintenance including oil replacement in main tank and auxiliary chambers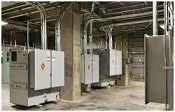 Install, maintain, trouble-shoot, and repair network switchgear
Study maps, drawings, and circuits
Inspect and assemble metal-clad and submersible switchgear
Install cables, terminations, system monitoring, and control components.
Install jumpers, fuses, and motor operators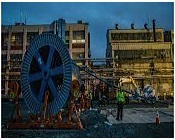 Install, terminate, and splice underground transmission cables
Prepare and pull high voltage transmission cables into ducts with specialized equipment
Terminate and splice high voltage transmission cables using specialized tools and techniques
Operate and troubles shoot systems