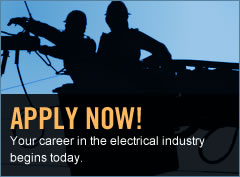 Member Access
for Apprentice/Students, Instructors, Subcommittee and Board Members
What's a Journeyman Lineman?
Journeymen linemen build and maintain electrical power systems. They do all the work from the point of generation (power plants) all the way to the customer's meter. The lines may be on overhead structures (up to 300') or in underground vaults or trenches. They may be in rural and metropolitan areas. Linemen also do work on traffic signals and street lights. The work is varied and exciting and the rewards are plentiful.
Being a journeyman lineman is really a combination of jobs — part engineer, part project manager, part equipment operator and part mechanic. Your apprenticeship training program will prepare you for all aspects of this exciting and rewarding career.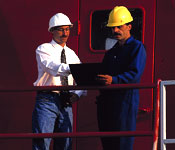 Planning and initiating projects
Study blueprints and specifications
Organize tools and equipment
Load and unload tools at the job site
Establish timetables for completion of work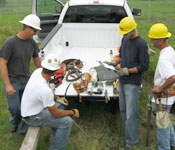 Establishing OSHA and Customer
Safety Requirements
Inspect and maintain tools and personal protective equipment
Develop on-site safety programs, including safety meetings and traffic control
Review and maintain OSHA, employer and utility safety standardsp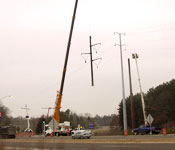 Setting Towers, Poles and Construction of
Other Devices
Transport poles or towers to the job site
Assemble poles or towers, if necessary
Dig holes and set poles or towers for proper depth and alignment
Install ground wires on poles and/or ground rods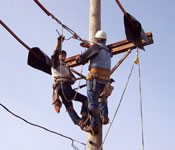 Establishing Work Position for Maintaining Overhead Distribution/Transmission Lines
Climb poles or operate a bucket truck to reach distribution or transmission lines
Set up hand line for tools and install grounds and insulating devices
Establish a traffic control system in urban areas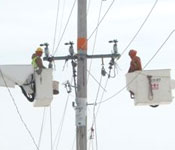 Stringing New Wire or Maintaining Old Wire
Inspect wire for potential problems
Install traveling grounds, as well as truck and equipment grounds
Set proper sag on wire
Splice wire, if necessary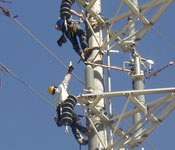 Installing and Maintaining Insulators
Inspect insulators for defects
Select appropriate insulator for voltage
Secure conductor to insulator during construction and maintenance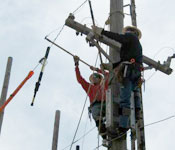 Using Rubber Gloving and Hot Sticking
The demand to keep the lights on in order to improve customer service is a growing trend. As this demand grows, journeyman lineman are increasingly exposed to the hazards associated with high voltage. At Missouri Valley, safety is our priority. Two common techniques used to work lines energized is by rubber gloving and/or hot sticking.
Rubber gloving is a technique of wearing rubber gloves (which are rated for thousands of volts) enabling the lineman to use his hands to complete the job, all while keeping the power on. Another technique is the use of hotsticks (manipulating insulated tools below the energized area to get the work completed).
If you are indentured, you won't be able to perform this type of work until your fourth step in the program. Journeymen linemen out on the job with you, as well as structured classroom instruction, will help you learn and perform these techniques safely and efficiently.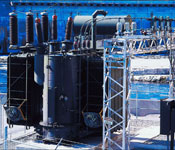 Installing and Maintaining Transformers and
Other Equipment
Select transformer based on voltage, polarity, impedance and customer demand
Determine correct transformer connection and proper fuse rating
Install transformer
Position over-current and over-voltage protection devices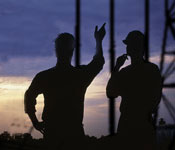 Supervising Journeymen and Apprentices
Assign tasks to personnel
Supervise work performance and provide feedback
Teach apprentices new tasks through demonstration and communication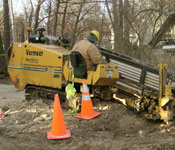 Installing, Repairing and Maintaining an Underground Electrical Distribution System
Install manholes and appropriate gear for present and future needs
Coordinate trench excavation
Lay, secure and reinforce conduit in the trenches
Install sectionalized devices to meet load interruption needs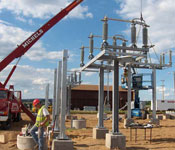 Assembly and Erection of Substations
and Switchyards
Read blueprints to determine plans for substation and switchyards
Coordinate excavation for placement of ground grids
Layout trenches for conduit for the substation and lay, secure and reinforce conduit
Install and terminate control cable
Prepare concrete footings for erection of substation structures
Install transformer OCB's, OCR's, capacitor banks and other related equipment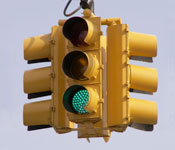 Installing, Maintaining and Repairing Traffic or Train Signals and Outdoor Lighting
Follow blueprints that show where related equipment is to be located
Excavate trenches or bore for conduits that will be installed
Install secondary pedestals for power and traffic control cable
Install and terminate lighting wire/cable and traffic control wire/cable
Form the base for pole, including assembly of reinforcing wire
For traffic signals, cut sensor loops in the asphalt and place sensors in the road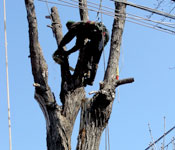 Tree Trimming (when neccessary)
Decide how pruning will be accomplished
Dispose of brush and branches