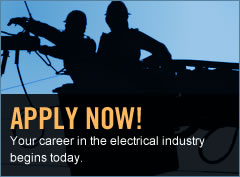 Member Access
for Apprentice/Students, Instructors, Subcommittee and Board Members

History
Due to the nature of outside electrical construction work, workers are required to move about from place to place to follow the progress of the job. It is also necessary for line apprentices to travel from area to area, not only to contribute toward the progress of a job, but to obtain the diversity of work experience required to become a competent journeyman. Missouri Valley Line Constructors Apprenticeship Training Program was established in 1964 as a not-for-profit entity to ensure that the electrical industry of a steady supply of qualified workers.
Because local unions are often not in a position to offer the diversity of work required, or reasonably continuous employment of apprentices, the International Brotherhood of Electrical Workers (IBEW) and National Electrical Contractors Association (NECA) signed an agreement with Missouri Valley Line Constructors Apprenticeship Training Program permission to govern all matters of apprenticeship and training.
The apprenticeship program based in Indianola, Iowa, handles all training/classes for our 7 state jurisdiction. The others states are Minnesota, Missouri. Nebraska, North Dakota, South Dakota and Wisconsin.
The Iowa program occupies a training facility, which includes an outdoor and indoor pole yard, located in Indianola, Iowa. The Iowa program trains thousands of apprentice linemen, traffic signal technicians and substation technicians each year.