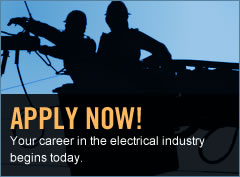 Member Access
for Apprentice/Students, Instructors, Subcommittee and Board Members

Testimonials
Read actual comments from apprentices, linemen/journeymen, instructors, contractors and even spouses about their experiences with Missouri Valley Line Constructors Apprenticeship & Training Program.
A Journeyman Lineman's Perspective Testimonials
Chris was working a dead end construction job until he enrolled in the apprenticeship program. Today, as a journeyman lineman, Chris is enjoying the benefits associated with a career — great pay, outstanding benefits and ongoing training.
What do you like best about being a journeyman lineman?
I am not the office type, so working outdoors is a real plus for me. Add great pay, excellent benefits and the ability to see different parts of the country, and what's not to like about this career?
How important was the apprenticeship program to you?
The apprenticeship program teaches you the proper procedures for many of the jobs you'll be doing as a journeyman lineman. Most importantly, it teaches you the safe way to do those jobs!
What advice would you give to someone considering the program?
Be prepared to handle the hours and traveling it takes to learn the skills necessary for success in this industry.
How dangerous is the job?
Safety is always top priority in this industry. It's emphasized throughout the training program and stressed everyday on the job. Proper training and proper equipment make the difference.